By: Tina Walczak & Cam Schreiner
Someone reached out to us at Hiilite in Kelowna and mentioned they were having issues with time management and managing creatives. They were working with a few creatives, but having troubles getting their work done on time. We know this is pretty typical since creative work can take a long time to develop, and creatives either like to ride the creative wave or have a super tight deadline to motivate us forward.
The big question is, how do we deal with this? Let's go back to the 1950s and pull up the Project Management Triangle.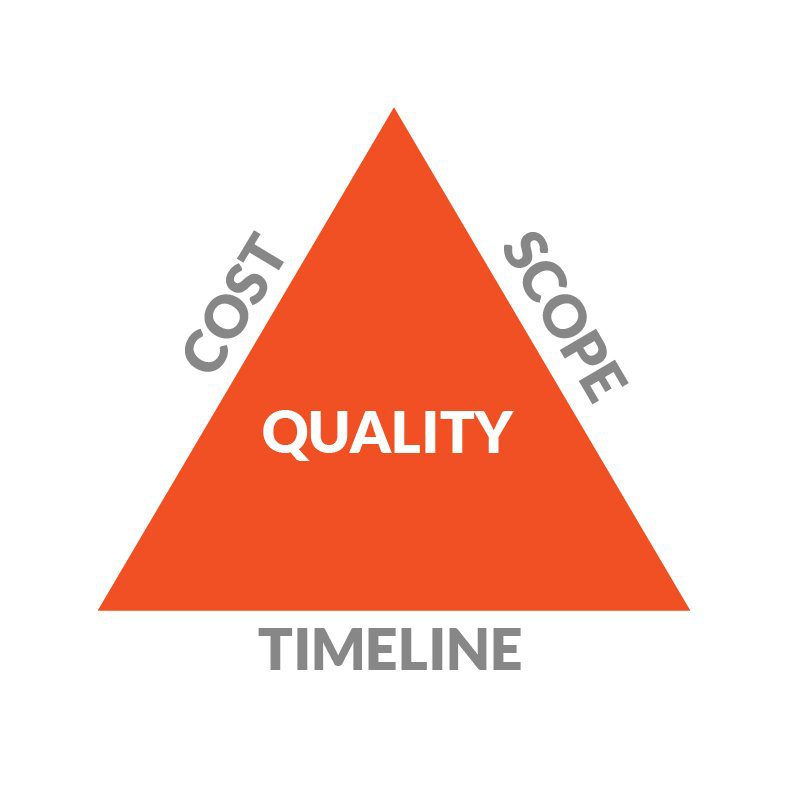 This Triangle has been used by many corporations to tackle tough problems like this one and will help us with the solution to your problem.
Scenario:
There is a client named Bob. Bob was stressing out because his company was going to be featured on national news in the upcoming month. The problem was that Bob's company had no online presence or company profile. Bob reached out to Danielle because he knew she did fantastic work and could provide a high-quality and user-friendly website. Danielle, being so good at what she does, was extremely busy with projects and constantly getting calls to take on more clients. Because of this, she did not have the capacity to create a website for Bob within his short deadline. Danielle wanted to help Bob out but to do so, something would have to change.
The 3 aspects that could be changed are the timeline: Bob's deadline, the scope: what needed to be done, or the cost: how much Bob was willing to spend to get this project completed.
The timeline in this scenario could not be altered as the date of the national news coverage was set. The scope, too, was fixed as even reducing the number of pages or the size of the website still meant it would surpass Danielle's ability to complete it within her regular business hours. What we have left in our Project Management Triangle then is the cost of this website. With an increase in cost, it could make it worthwhile for Danielle to work overtime in the short-term or she could afford to pay someone else to assist her with this project.
At Hiilite, our passionate, creative and innovative team is committed to providing superb quality customer service. We deliver results-focused marketing services while building thriving relationships that fuel growth and catapult our people and our clients to success.
Follow our Instagram account @Hiilite – Also, watch our LIVE Instagram videos, Thursday at 4:00pm PST or send us your business or design related questions.