Every year a new trend is sent to the grave while the next big thing arrives on the scene, stork style. For a web and marketing company like us, deciphering between which trends have a long-term future (and which ones should be avoided like the plague) is an elementary task. However, for someone who is just delving into the world of design, it can prove to be a daunting process. Luckily, our design team has already taken a look at the top graphic and web design trends for 2016- and they're letting you know what's here to stay and what's got to go.
High-Quality Moving Images
Have you heard of the term cinemagraph? Because if you haven't, add it to your dictionary ASAP. This form of imagery is a blend of still photography and moving elements within your photo. Cinemagraphs are proving to be an excellent way to retain the attention of visitors; they can liven up a lengthy blog post, make your sites regular boring background enticing, and keep your visitors entertained 15% longer than average. Plus, video is becoming a leading web design standard (so it's a perfect way to hit that trend right on the mark).
Textured Typography and Illustrations
It's looking like hand drawn visuals are here to stay (for a while at least). People are craving the quirky, down to earth look that handwritten letters and imperfect illustrations provide. We're not saying that crisp, clean design is going away- but these crafty pictures and fonts are proving to engage users in a more personal way. It's much easier for users to imagine themselves in a sketched out watercolour field than in front of perfectly planned out stock photo.
The Card Layout
Mobile and tablet devices are thanking the inventors of Pinterest for sparking this trend. Little boxes and rectangles now contain all of your information, which is perfect for the limited space a lot of devices offer as they can be quickly shuffled around to fit on a smaller format. It also allows for a fun patterns that users can follow as if they were to navigate around a magazine. And all we have to say, is we are glad the card layout is here to stay.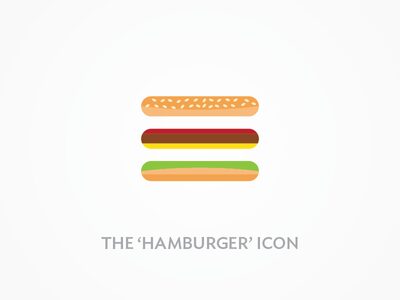 Overusing the Hamburger Menu
While the hamburger menu is fantastic for mobile devices, it does not need to be used by every website that ever existed. For example, this menu style can be harmful to user experience when it comes to e-commerce websites or news-heavy sites; the discoverability of key terms and topics are critical to the user experience on these kinds of websites. When looking to give your menu a refresh, consider your content first and what's important to place top-level for your user to get the full experience.
Website Intro Pages
Fun and simple loading screen animations are a yes, but a welcome page while your turtle-slow website loads is a no. These pages were made to increase personality in sites and give the user a more personalized experience, but they've been found to actually drive away traffic. A hello or welcome page just adds one more screen for them to bypass to get to the real user experience part; so, as friendly as this trend comes across… we say, ditch it for 2016.
Excessive Use of Parallax Scrolling
At Hiilite, we are huge advocates of the parallax scroll, but for some sites, we realize that it isn't best design option to present its information. Parallax is best suited to websites with very little content as a way to beef up the sites enjoyability (by using depth and different scroll speeds). Parallax is used to tell stories, and websites that are content-heavy already do that themselves, so, try sticking to a design that contains minimal animation tactics.
Although we have our likes and dislikes for graphic and web design trends that are making headlines in 2016, we want you to decide for yourself what designs best suit you and your site's objective. Feel free to take our advice (or leave it), but if you'd like a little more insight into what you can do to make your brand A-grade, then please contact us! We want to give you access to an incredible team and the tools you need to make your brand prosperous in 2016.
We're wishing you an outstanding New Year from Hiilite, and we look forward to hearing from you soon.