Your search for the secret formula that will bring you effortless success, happiness and limitless wealth is over!
Are you ready to completely transform your life? We have discovered a life-hack that will give you the body you've always wanted, a seven figure bank account and all the fame you can handle. It is a simple 3 step shortcut that is used by the ultra-successful and it only takes a few minutes a day to implement!
The secret hack that will bring you millions…
So what is this secret to success? We hate to break it to you, but the quick fix, divine solution that you seek does not exist.
There are no magical business models or mindsets that will have you driving a lamborgini next week. You are not going to stumble across a hack in a magazine that will place you in a private jet where you can share countless pictures of your frosty crystal glasses of Dom Perignon on Instagram. Get rich quick? Easy entrepreneurship? Don't fall for the fads on social media- there is no such thing as effortless success!  
So, how do you become successful then?
With the goal of being the best and most badass marketing agency in the world, Hiilite is extremely interested in discovering the various elements that combine to create "success". One of the best methods to develop your knowledge base and skillsets is to learn from the those who have already achieved in your area of interest. With this in mind we decided to talk with one of our favourite success stories, Ricky of Ikon Adventures. Ricky has an innate need for speed and has extremely valuable lessons to share with inspiring entrepreneurs and others who are trying to overcome their own obstacles.
The path that led Ricky to Ikon Adventures
Ricky is the owner and operator of Ikon Adventures, a helicopter tour company based out of Kelowna, BC. Ricky has traversed a long and rocky road to get to where he is today, putting maximum effort into every project he has started.
From a young age, Ricky sought out excitement and speed wherever he could find it. He was riding a bike on his own at the age of two, advanced to a dirt bike when he was four and by the age of seven, Ricky was pushing his personal golf cart to it's limit.
By the time he was a teenager, he already had his eyes on the sky. Ricky had developed a deep passion for going farther and faster with the help of various machinery but when he was 18 he hit a massive roadblock. Alike many of us during our teenage years, Ricky found himself in a bit of trouble and needed to pay off some major debts. This led him to the construction industry where he found a position with a reputable company. He soon discovered that he yearned for more than the 9-5 schedule and set out on his on opening his own contracting business.
"Money is not happiness"-
Ricky of Ikon Adventures
As a 24 year old business owner, Ricky embraced a strong work ethic and paid attention to every detail, quickly finding himself with a flourishing business. Revenues soared and suddenly Ricky was very well off- but something was missing. Ricky had no passion for his contracting business. It made him enough money to live very well and travel around the world but he was never excited to wake up in the morning. This is when he discovered, "Money is not happiness."
The things we avoid doing are often what we need to do the most
Ricky knew he needed to make a change. He was fulfilling his passion of traveling, visiting unique destinations all over the globe but often he was escaping to sandy beaches because he was bored with his work. In the back of his mind he often thought of his dreams to fly but always found excuses that pushed the idea farther down the line. He emailed back and forth with a flying school for a while but continually procrastinated, filling his time with construction work and traveling.
Everything changed for Ricky one New Year's Eve in Thailand. He was having a great time celebrating with friends in one of the most beautiful destinations in the world but he knew there was a major component missing from his life. He decided, right then and there on January 1st that he was finally going to follow his dreams of flying and signed up for flight school. On January 2nd he paid his tuition fees, on the 3rd he flew back to Canada and on the 4th he started on the journey of becoming a licensed helicopter pilot.
Fast forward to today and Ricky is now 30 years old and living his dream of flying every single day. He noticed the opportunity to create an adventure based helicopter service in Kelowna and now is an extremely successful business owner that starts everyday with a smile.
We asked Ricky what the future had in store for himself and Ikon Adventures.
"The thing is…even with 10,000 hours of flying experience, there is always something to learn. The conditions are never the same twice- the winter and weather are always different. If you fail, it's the real deal, so I am extremely focused on the present. There are always bigger helicopters and other ways to seek adventure but in the future I would love to own an entire fleet of helicopters operated by a fleet of pilots that are just as passionate about flying as I am. This would grant me the flexibility to still fly and be involved in the business, but also travel for weeks at a time to places like Abu Dhabi."
The 3 lessons on success we can learn from Ricky
As our relationship with Ricky and Ikon Adventures grows, we are discovering that Ricky is a wealth of knowledge. Luckily he was kind enough to share some of his core principles with the Hiilite Team that have helped him overcome obstacles, finding true happiness and success in business.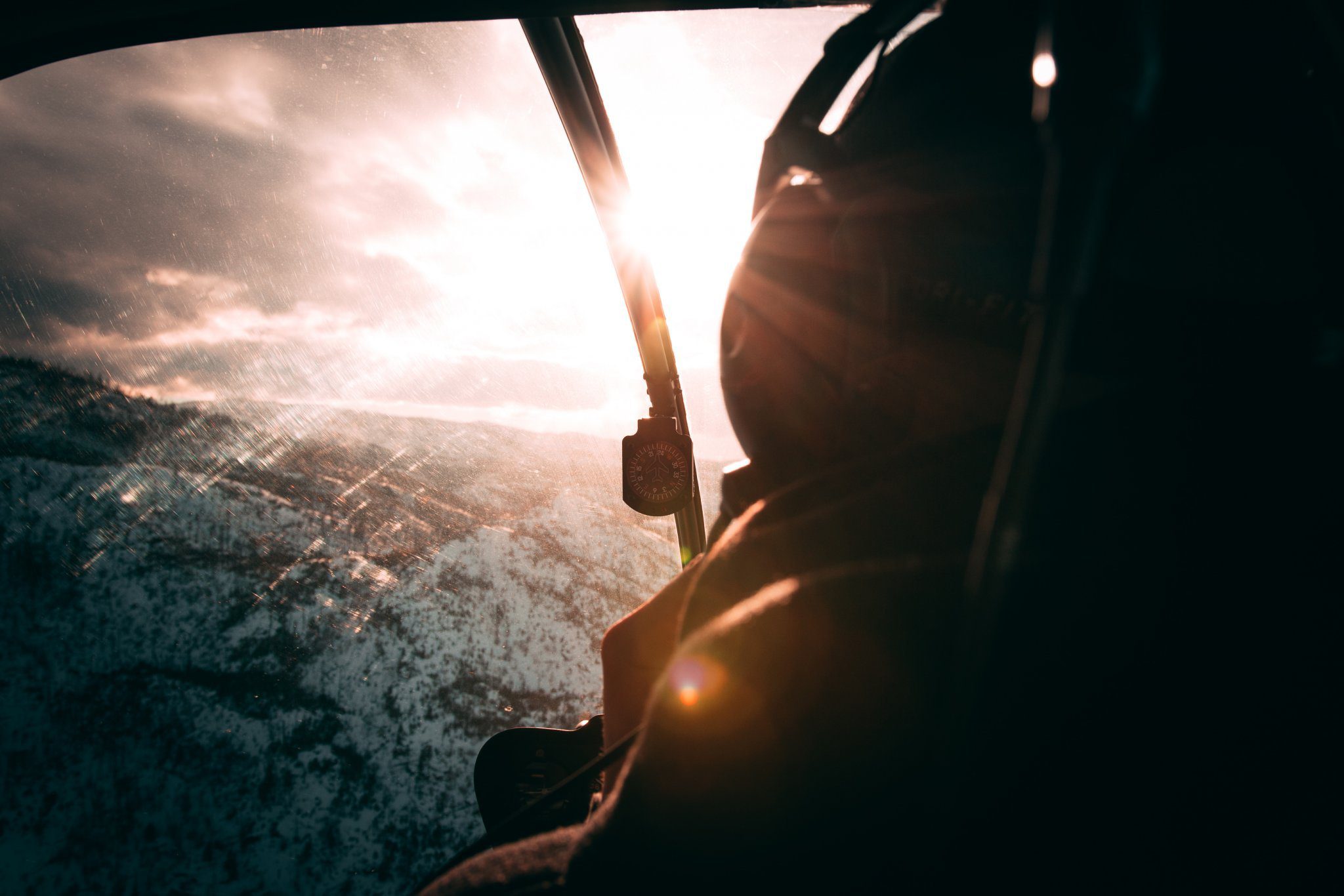 1.  It is Simple to Start a Business-
But Success Is Found in the Details
Ricky recalls the beginning phases of both his contracting business and Ikon Adventures…  
"There is a basic formal to starting a business which is relatively simple, but you have to be meticulous with the details that affect your business. Being a little OCD and ensuring everything was in place before starting out really made the difference."
Ricky followed a standard business plan, conducted the proper market analysis and completed his financial forecasting in extreme detail. He wanted to know exactly what his costs were going to be and what revenues he could expect to bring in. These are the basic elements that are taught in business school, so why did Ricky succeed where 90% of other entrepreneurs fail? He worked hard; day in, day out. He knows which details affect his business and pays close attention to his accounting- which he conducts on his own. Creating and operating a successful business is not rocket science- it's hard work mixed with the right amount of passion.
His advice for aspiring entrepreneurs?
"Don't complain. No excuses. Just work hard and the details will take care of themselves."

2.  Passion is the fuel of a successful venture
Ricky was earning more money than he knew what to do with when he owned a contracting business, but it would never last. Why? Because Ricky was not passionate about construction. He was dreaming up places to travel to because he was bored with his work, never excited to wake up in the morning to work on a construction project. Without a deep level of passion, a business won't last.
How does he feel now about Ikon Adventures?
"If I have to show up at 5 AM, I show up at 5AM and I'm happy about it. I love the grind of it all. That's where I find true joy. My passion for flying is the motivation behind all the success of my business, 100%"
3. At the End of the Day, You Can't Control Anything Except Yourself
Ricky told us a quick story about a trip with clients to Oyama Lookout in British Columbia. It was the perfect day and everything was going as planned. The weather was ideal to take photos and the helicopter was running like it was brand new. It was the middle of the summer, and this area of the Okanagan was scorching hot- the clients were ready to head back to Kelowna. When Ricky went to start the helicopter nothing happened. No matter what he did, the aircraft wouldn't budge.
"People and machinery are never going to react the way you want them to. Your success comes down to your own thoughts and how you react to the situation at hand"
Long story short, Ricky was unable to fix the helicopter that day and had to arrange for a backcountry pick up. Why is this story significant? The customer that was with Ricky that day is now a returning customer. She explained that through all the difficulties and issues Ricky kept his cool. "You didn't get mad, you didn't freak out…you stayed calm and focused on solving the problem at hand"- Ikon Adventures Customer.
Ricky could not control the fact that his helicopter wouldn't start or the fact that the weather was particularly hot that day but he was in control of how he would remedy the issue. This put the customers at ease but it also allowed Ricky to quickly analyze the severity of the situation getting his customers out of the heat right away. He finished the story with a single thought…
"At the end of the day, you can't control anything except yourself"
.
Are you ready to finally take the plunge and embrace your passion for business? We are always looking for entrepreneurs and business owners that think like Ricky. If you are interested in partnering with the future most badass and best marketing agency in the world, we would love to hear from you…