Your business card is like your handshake…
Is your design strong and confident, or does it lay flat, like a dead fish? (no one likes a dead fish handshake ????) 
As a designer or any other creative, you need to understand that your work will be displayed and interacted with on various mediums. Every time a logo or design is reproduced on a new element, it changes the look and feel of your original content.
The difference between a mediocre designer and a world class creative is understanding how to incorporate the foundational elements of design so your content is powerful across multiple platforms, yet still manages to capture a modern essence.
Our Creative Director, Tina Walczak, created a beautiful brand for our client, Ragi Labib, a local photographer with international talent. After a successful brand launch, Ragi was look for a new style of business card that would leave a memorable impression in the hands of prospective clients and collaborators.
One of our designers, Cam Schreiner, was up to the challenge. With previous experience in the printing industry and a knack for creativity on multiple platforms, Cam went to work.
The Ingredients Involved:
-Adobe Indesign
-Paperstock: 100lb Cougar Cover @domtarblueline
-Pearl Foil
-Metal Foil Die
-Guillotine Cutter
-5-colour Offset Press
Now that you know the ingredients required to create a stunning business card, let's explore the specific steps our Hiilite team took to bring this project to fruition.
Step 1: Fact Finding Fun
One of the biggest mistakes you can make in the world of design is not fully understanding the needs of your customer and/or audience BEFORE beginning your work. At Hiilite, we often use a "design thinking" mindset when creating designs or content, tailoring the final product to the exact needs and emotions expressed by the end user.
Before Cam even thought about what Ragi's business card might look like, he first connected with the client to discuss his exact objectives. You might think the objectives of a business card, or a website design are straight forward but they rarely are. Every client and project is unique and must be treated as such.
At this stage of business card design you will want to:
-Obtain concrete objectives and budget options from the client (helps determine if your work is successful or not at project completion)
-Discuss design options. Walk your client through stock, weight and finishing options. Explain to the client how thickness and texture might reflect their brand
-Aquire quotations from printing partners. Some creative ideas might be great in theory but in reality, a costly option that is out of budget.
If you are a true creative…this is going to be your favourite step. It's time to get your hands messy and to let your creative juices flow. Now that you are aware of your clients desires and constraints you can put your thoughts on paper or screen. As you start to construct a few business card options, keep your clients brand guidelines in mind.
For Ragi's card, Cam wanted the logo to be the main feature, attempting to achieve an effect that made the design jump off of the physical card. With this effect in mind, Cam gravitated reflective materials and eventually found inspiration using a foil. To further enhance the impact of our design, Cam choose a black backdrop adding depth and high levels of contrast.
Step 3: Printing Process Details
 Now, unless you are in the printing industry or have had some exposure to the machinery and processes involved, you will need to gain insights from a printing company.
Luckily, Hiilite has Cam! If you don't have a Cam of your own, partner with a printing company that really knows their stuff. You want to ensure the printing process does justice to your design. You also want to confirm that you are not being overcharged for the product.
The details of print design:
Print your artwork on the stock of your choice. Black stocks are very desirable but limit you to minimal ink choices, in this case we chose a white stock and printed the background black leaving the text knocked-out in white.
The foiling process involves taking a metal die and pressing the chosen foil into the stock (in our case the cards were ran through twice to improve the opacity of the Pearl Foil).
Finishing options such as foils or spot UV's react differently on different stocks and laminates so need to be accomplished in different ways – Spot UV coating soaks into uncoated card stock.
Once printed and foiled the next step is to cut the large sheets down to individual cards. This is done with a guillotine cutter
After all the cards are cut down, they go through quality control and are packaged, ready for delivery or pickup.
(Above): The finished product! Elegant, clean and a perfect combination of contrast and texture. This is a card that a client will want to hold on to. 
Physical Marketing Materials
And now you know our secrets to creating a business card that demands attention! It is incredibly satisfying to be able to pick up and hold something that you have designed. In the age of digital media, physical marketing materials are becoming less prevalent, which is actually a great opportunity to break through the noise and speak to consumers.
Web design and all other digital creative efforts are extremely important but the next time your client is looking for a fresh campaign, don't forget the printing industry.
Hungry to learn more creative skills?
Never stop learning. Never stop creating!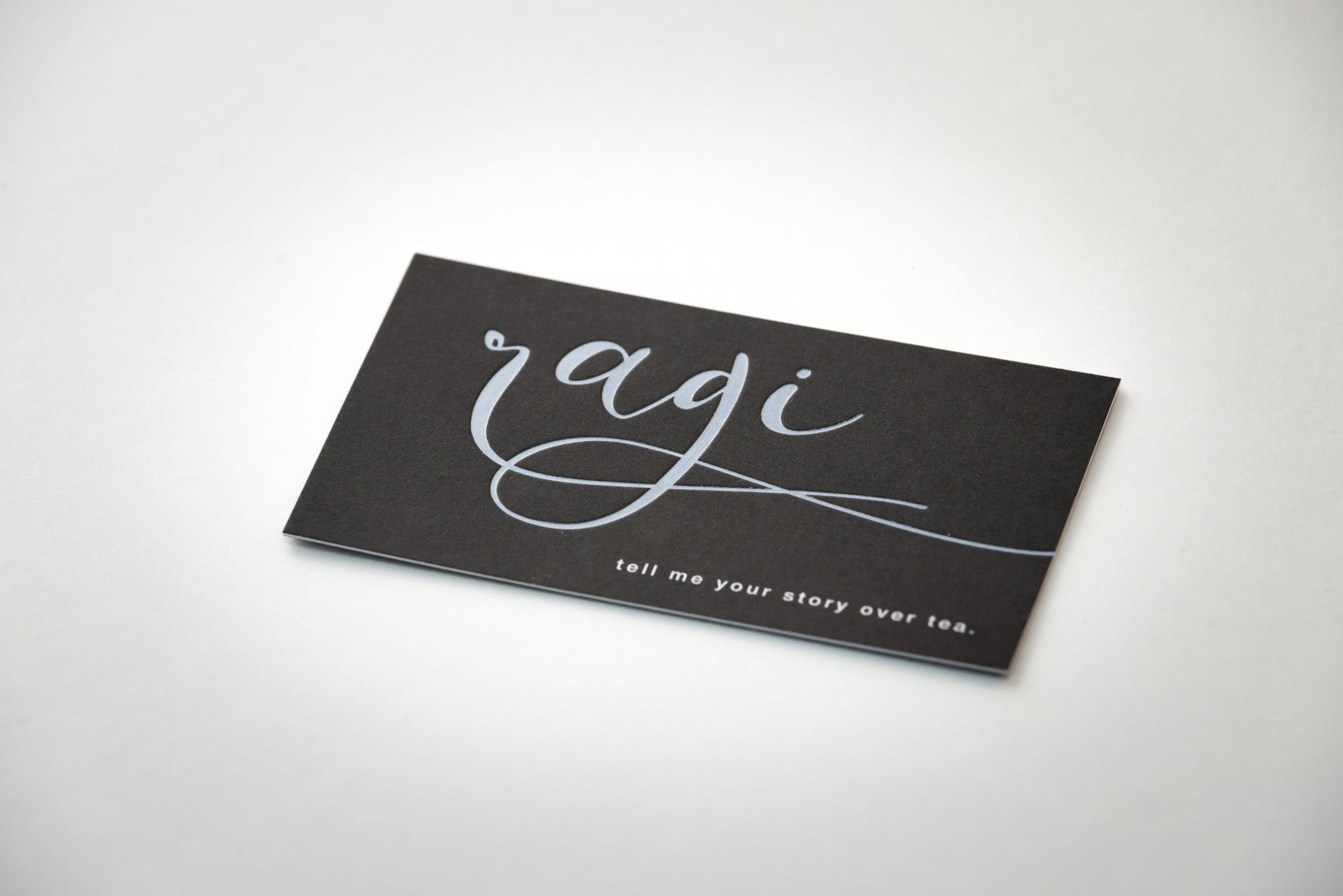 What story is your design presenting to the world?
Ragi Business Card Project:
Creative Director: Tina Walczak
Print Design and Orchestration: Cam Schreiner
In-House Photographer: Donovan Wagner
External Photograhy: Ragi Labib
Looking to impress your clients and contacts with a fresh brand design or business card?