With numbers like that, it's understandable why there is sure to be increased competition within the cannabis and marijuana industry including potential for worldwide growth for Canadian companies.
So how does a company standout amongst the others?
In this article we will be discussing tips for marketing your cannabis business including strategies we have used to benefit our growing list of cannabis related clients.  This article will give you actionable advice, tips and cannabis business marketing strategy, to help your business stand out amongst the rest (especially when it comes to ranking on Google). Just look at the impact we were able to have with one of our client's organic search traffic in only a few short months.
As an experienced cannabis marketing company, Hiilite has achieved incredible results for our cannabis and marijuana services clients throughout various cities including Calgary, Kelowna, Vancouver and many more. By following the strategy discussed in this article, we have been able to increase traffic to our client's website by 86%!
With the industry being relatively new, choosing a cannabis marketing agency that can design your brand image that resonates with your target audience, is paramount. According to the Brightfield Group, Between 60 and 70 percent of marijuana users surveyed are loyal to their brands, so much so that they are willing to pay more money and travel farther to get them.
Understanding this, we determine our client's voice, vision, mission and goals via a comprehensive discovery and research session. It's also here that we identify the proper channels to reach your target audience and detail goals. With the type of loyalty, we discussed earlier amongst cannabis consumers, we have found great effectiveness in industry-specific magazines and publications. We have found that in dispensary waiting rooms, these publications attract eyeballs on our client's brand. For large cannabis brands, investors are closely monitoring any and all updates – these publications are often seen as an avenue to identify the next market shifting products, companies, etc.
Another great source of driving brand loyalty experienced by our client's, is by creating consistent, unique video content. Additional video ideas include: tutorials, product reviews, best of lists, collaborations, culture videos and influencer marketing.
Cannabis Digital Marketing – Necessities To Stand Out Amongst Competitors
The first step is, of course, having a website that potential customers can find your products/services at. But with an increasing number of cannabis products/services providers in big cities, it has become a necessity to have a sound digital marketing strategy to continually generate new and returning customers. SEO for cannabis companies is paramount as it is a relatively new industry and attracting loyal customers can create immediate, long-lasting brand loyalty.
The easiest way to secure clients? Make sure your company is visible anywhere potential customers may be looking for you.
The marketing strategy tips discussed here will help you land customers that are already searching for your products/services. By reading this article you will understand the process we used to help our clients stand out in this competitive industry, generating high quality leads and revenue.
Want more cannabis marketing ideas delivered to your inbox? Subscribe to our newsletter!
Create A Visually Appealing Website (For All Devices)
We touched on this briefly earlier, but it bears repeating. For a cannabis company to separate itself from the pack online, the website design needs to warrant a visitor's attention, increase the amount of time spent on your cannabis website and encourages new customer contact submissions.
Before we touch on the elements we like to include in our cannabis client's website design, it's useful to understand some facts related to the average customer journey and what they are seeking:
Source: Neil Patel
What does this mean for your cannabis website? It needs to be visually stimulating and communicate a clear value proposition. For our cannabis company clients, we will have a Discovery & Research cannabis marketing services strategy session to nail down on what makes them unique so as to communicate this message on their website.
We encourage our cannabis clients to identify a tangible, unique value proposition that can really separate themselves from the competition. This forms the basis for the unique visuals and friendly user interface that we create when putting together the web design for a cannabis company.
Put yourself in the visitor's shoes. If you see a cannabis company offering quality products (like everyone else), or someone who in addition to providing quality cannabis products, also provides next day shipping, 30-day money back guarantee and a free chance to win a free product, which one are you going to choose?
As cannabis marketing consultants with years of experience, we have found that website structure is of upmost importance not only for overall user experience, but for the sake of Google and other search engines.
To rank highly on Google, cannabis website designs should contain an architecture that is easy to crawl (fancy SEO term – think of Google as a robot spider that continuously crawls websites to understand their content to better provide searchers with relevant results). The simpler we make the website, the easier it is for Google to understand the site and our client's incredible content, thus increasing the chance it is shown to searchers.
Finally, as nearly 60 percent of searches are from mobile devices it is crucial to have your website be designed for easy navigation and accessibility on mobile. Search engines consider mobile-friendliness when generating search engine results. Contact one of our representatives to if you need help ensuring your website is mobile friendly.
Content Marketing Cannabis (That Understands Consumer Trends)
Understanding, developing and executing a content marketing strategy can have immense benefits for cannabis companies looking to increase their reach (and thus, potential for new consumers). The problem is, often our clients are unsure about how to create a strategy or are focused on the wrong (for lack of a better term) areas.
Content marketing is meant to be a longer-term strategy, providing an additional opportunity for your cannabis company practice to rank online for relevant search terms. With the constantly changing, competitive landscape for cannabis companies, it is not enough anymore to simply create your practice's website and expect results. You NEED to be creating fresh content on a consistent basis to win precious search engine rankings.
Understanding the latest trends within your industry and creating content related to it provides benefit to potential customers as well as you, the cannabis services provider. It can provide an answer to their query, and because of them landing on your website, can increase the likelihood that they contact you for further questions or to book an appointment (if that is where they are in the customer journey).
Our content and strategy and development for cannabis companies usually involves the following:
Blogs
We design a content marketing strategy for our cannabis clients based on the stage their practice is in. In the initial stages, our blog content is aimed at driving brand awareness and traffic to the website. As the client gets more well-known and seen as an expert within their industry and region, we might shift to comment more on the latest trends and provide expertise that answers consumers questions. These blogs are meant to be thorough and provide additional online visibility that a cannabis practice may not have.
FAQs
For some people, the cannabis company can be a scary venture. Frequently Asked Questions (FAQ) sections of a website can go a long way in not only answering any concerns that a potential patient may have, but (you guessed it), provides an additional opportunity to rank on Google for search queries that your patients are searching for – as a cannabis marketing company, this often the angle we pursue with all strategies.
For example: we may notice that a lot people in the Vancouver area are searching 'root canal recovery time'. In this case, we can add a section to our FAQ section that answers this question and potentially secure a new patient that requires a root canal because created more relevant content for our target audience that may not have stumbled upon our client's site otherwise.
Newsletters
These are a great option if you feel you can provide your patients with relevant offers and/or news, tips and advice that they are seeking.
Cannabis Reports, Ebooks, Guides
This content marketing strategy is intended for our clients that seek to become the authoritative voice for a trend, issue or service in the cannabis industry. An extremely powerful factor which we won't go into extensive detail here) for ranking highly on Google is the 'authority' of a given website. If visitors link to or share your cannabis report, ebook or guide, Google recognizes that you are an authoritative figure within the cannabis services industry and is more likely to show your website for related search queries.
Search Engine Optimization (SEO) For Cannabis Companies – Keyword Research
Search engine optimization is the practice of optimizing your website to make it 'search engine friendly'. At the root of SEO is keyword research, understanding what queries, and the intent of each, your target audience is searching.
Our cannabis marketing consultants are well versed in the keywords that increase your presence online, while generating high quality traffic, more likely to submit a new patient request. The specific keywords chosen for your site depend on a variety of factors including which services are available at your practice. For most of our clients, a long-tail keyword (3-4 descriptive words) focus is typically ideal. For more information on the types of keywords, see the infographic below: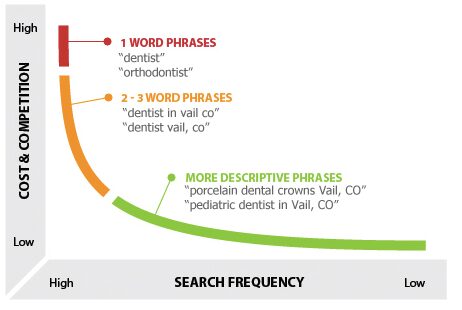 Source: Online Marketing For Cannabis companies (SEO)
4. On-Page Optimization For Cannabis Companies
After conducting keyword research for a cannabis client, we shift focus to on-page optimization for high-value pages. For cannabis practice clients, typically these will consist of the homepage, services pages, content pages and any promotional pages.
Does your cannabis website require further on-page optimization?
Our cannabis marketing company services provide opportunities for clients' sites to rank for unique keywords and search queries for each of their high-value pages. This is done by ensuring these pages contain primary keywords in the following areas on a given page:
Title tag
Meta description
Header (H1)
Body copy
Off-Page Optimization For Cannabis companies To Dominate Locally
Off-page optimization refers to practices and techniques, designed to boost your search engine rankings by increasing the perceived legitimacy and authority of your cannabis practice (as briefly discussed in part 2).
Off-Page Cannabis Marketing Strategies To Increase Customer Volume
Google My Business (GMB) Listing
This free listing increases the legitimacy of your practice while also improving its online visibility (these profiles make up almost 50% of the screen real estate, making them impossible to miss). They provide more in-depth detail to your practice and services offered, as well as location and reviews. A top quality cannabis website design without claiming their GMB listing is missing out on a significant number of potential new patients.
It is vital that these listings be optimized in such a way to provide the greatest value to potential patients. This includes providing a summary that contains relevant keywords as well as local photos of the business location.
Citations
Citations refer to any mention of your name, address and phone number (also known as 'NAP'). It is very important that these citations remain consistent where ever present as this will increase the 'trustworthiness' of the information from a search engine's perspective.
Directory Submissions
You may have already been told that Google is the new Yellow Pages. While this is true, increasing your web presence by submitting your site profile to the well-known directories is a must when it comes to local SEO for cannabis companies. Our cannabis marketing company has been leveraging these resources for years to increase our clients' search engine rankings. By including consistent client profile in general, national, industry specific and local directories it not only increases website traffic but also provides further authority value.
Testimonials and Reviews
It's not always the most creative cannabis marketing ideas that provide the greatest return on investment (ROI). There is much to be gained just by encouraging and responding to your Google My Business reviews and similar review websites.
Getting positive reviews further increases the perceived authority of your website and conveniently provides another way to attract new patients to your cannabis practice. By taking the time to request a review from a patient (usually via email outreach following a consultation) and respond in a professional, timely manner, new cannabis patients are guaranteed to filter in.
Still not sure how to generate reviews for your practice?
Conclusion
Partner with an experienced marketing agency with a sound understanding of Facebook, AdWords and other channels that will provide you with the greatest return on your marketing spend.
As Cannabis marketing is a relatively new field with limited data available, there are so many avenues to be explored and tested. As a marketing agency with a growing number of clients in the cannabis industry, we have seen great results so far with the following marketing strategies:
Figure Out Where Cannabis Consumer Consumes Their Content – And Utilize Advertising Opportunities On Those Platforms
Look, no one is questioning the power of Google AdWords or Facebook ads but, in our experience, nothing beats the ROI for our cannabis clients like in store advertising, or more traditional experiential marketing events.
Sponsored Content
As we touched on previously, there is an incredible amount of brand loyalty associated with cannabis companies' potential customers. Knowing this, if you can partner with these industry giants or their affiliated allies, take advantage of it by creating blog posts, infographics, videos and other digital content.
Brand Ambassadors & Promotional/Affiliate Codes
This strategy is great for our cannabis clients because it allows us as their marketing agency, to clearly identify which offers and methods provide the greatest ROI. Utilizing this strategy also has the added benefit of effectively expanding your sales team, as affiliates realize that the more referrals they provide, the bigger the cheque they receive.
Do you need help with your cannabis practice marketing to generate leads?