Why Social Media?
Social media is no longer a popular option for businesses, it's a must have. Why are we seeing this? Beyond the ability to connect with your target market on a more honest and direct platform, social media allows opportunities for better customer service, public relations and customer insight. You can connect with your customers and get them to engage with your business on a level that hasn't been possible previously.
Here's the catch. Social media marketing strategy is more than just creating a Facebook page and posting pictures of your cat. It takes time, effort and planning in order to be successful. Now you're asking, "What does success on social media look like?".
Define What Success is for Your Brand
The answer to this is different for every business. For businesses that are looking for brand recognition, it will be important to have the highest Reach possible. Getting their brand out in front of enough eyes is the name of the game. That Reach can turn into increased Likes and Followers with engaging content. For other businesses it might be all about the conversions. How many people can you drive to your website to complete a specific action such as purchasing your products, filling out a contact form, or completing a call? How you plan to execute your social media is directly connected to the goal you want to accomplish with the platform.
Determine a Strategy
Now that you understand your goal for social media, you need to determine your strategy. Creating a plan ensures that you stay on track for your goals. To help you get started with made a list of 5 social media tactics you can use to help create engagement, increase followers and generate conversions that drive your business.
QB Gelato just opened its doors the the public in Kelowna this past month. We were not only excited for their delicious gelato, but also the opportunity to execute an exciting social media plan. Here are the top 5 tactics we used in QB Gelato's social media success:
Top 5 Social Media Launch Tactics
1. Run a Contest
We have seen a lot of success from contests and have used this strategy with many different businesses from dentists to helicopter tours. People enjoy participating and engaging with businesses when they feel they have the opportunity to win something. This is simple advice that we also saw from social media guru, Gary Vaynerchuk, "Give, give, give, give, give… Ask". Keep giving your followers, fans and potential customers interesting content, ideas, free advice and only after that, ask. The chance to win free gelato gained this new business, 450+ Likes on their Facebook page within the first month of their website launch.
2. Connect with Other Local Businesses
Just like networking is important offline, building your community network on social media is also important. If you support other local businesses, they are likely to support you. You can work together  and use your niche to gain exposure for another business that supports you. Especially in places like Kelowna, where locally sourced ingredients are important to consumers, community involvement both on and offline goes a long way to showing your followers what kind of business you are striving to be.
3. Re-post Great Reviews
Your audience has taken the time to review your business, now it is time to show them some love! People feel really special when a business takes the time to engage with them on social media. This is a great way to say thank you to those customers who love your product or service.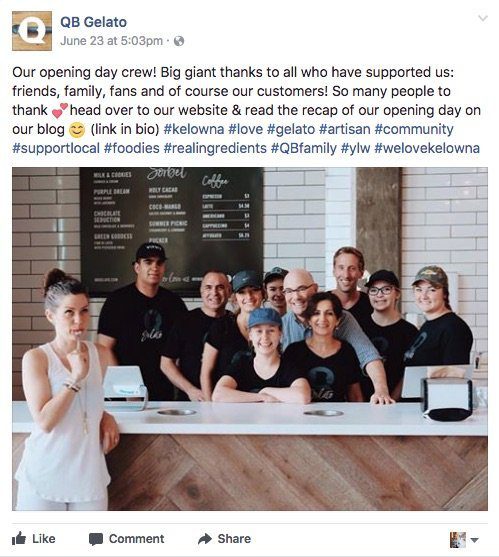 4. Say Thank You with Genuine Posts
Social media provides your business with a unique insight into the behind the scenes area of your business. Companies that embrace this personal connection with their followers have the most successful social media campaigns. Consumers are looking to have more genuine connections with the brands that they find important and they will eat up content that speaks to them.
5. Have Some Fun
This is they key! Social media doesn't have to be serious. It is a great way to have some fun, show your brand's personality and connect with your consumers. So go play!