You know what they say in Manhattan- appearances are everything. When your clientele enjoy the finer things in life, your brand needs to reflect that.
Dog Relations NYC is a dog training service for the dogs of New York City. Elisabeth Weiss is the woman behind all the magic, transforming mischievous puppies into well behaved companions with a graceful and warm touch. She offers dog training, physical rehab and wellness programs for the furry friends of New Yorkers that want the best for their loved pets.
When Elisabeth first came to us, she was looking to refine the image of her brand. She loved her cliental (the humans and the dogs!) and wanted her business to mirror their high expectations and elegant style.
Task: Transform Dog Relations NYC's image to look like it belonged on Madison Avenue.
Sit, Stay, Re-Brand
We were extremely excited to begin this project because, well we love dogs here at Hiilite. Cooper Mueller, our VP of moral was brought on board for all the as a consultant for the project. His past experiences as a Boston Terrier were invaluable as we dove into a canine mindset.
We had a lot of fun bringing Cooper into meetings but our real plan of action started with getting into the minds of Elisabeth's two-legged customers. Where did they shop? What did they wear? What did they read? The average client of Dog Relations NYC was extremely passionate, they cared deeply about their dog but also about fashion, luxury brands and their city.
We poured through vast amounts of examples and research, discovering what drew the attention of Dog Relations customers. In the end, it was our Chief Design Officer, Tina, that used her experiences in the world of fashion to narrow down our designs to focus on the clean, elegant and vogue inspired design that Dog Relations NYC now proudly wears.
Completing a re-brand with a company that already has a spectacular product or service can be a real challenge. You want to create imagery that does justice to the amazing offerings that clients have already come to know and love. Sometimes you have to do a complete 360 and modify everything. With Dog Relations NYC, we wanted to refine and polish what Elisabeth already built. Like decanting a young red wine, we simply polished and enhanced the brand, balancing the imagery, creating a website that would turn heads on 5th Avenue.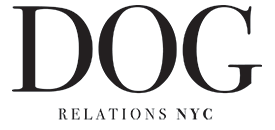 Bringing a Brand to life with Photography
After the successful launch of the new website, Elisabeth was thrilled. There was just one more element needed: original photography. It's difficult to capture the feeling of a city like New York through stock images alone. Not to mention that original photos create far more authenticity for a brand, so we packed up and set out on a jet plane to the Big Apple.
We started the 2 day shoot with a pre-shoot meeting with Elisabeth followed by location scouting. Elisabeth wanted to capture some of her favourite furry clients around the city displaying their acquired talents and refined behaviors. Manhattan is breathtaking and offered picturesque views on every street corner providing us with ample opportunities to pair unique locations with each dog.
The end result was a collection of original images that were incorporated into the website and used on social media.
---
Alike many of our projects, we did not find a client in New York, we forged a friendship. We continue to maintain our ongoing relationship with Elisabeth by providing SEO, social media, and marketing consultation for her business.