Recently, I had the idea to perform a case study as sort of 'practice what I preach' project. The idea was simple, create a business (and website) from scratch, and put into practice the SEO principles that I encourage our clients at Hiilite to do on a daily basis. In this step-by-step guide we'll discuss how to rank a brand new site on Google as well as provide insight as to the value each step provides. Our hope is that this case study serves as a guideline for any potential readers as to the level of effort and expertise needed to rank your site at the top of Google (for free), and get you out of Google's Sandbox as soon as possible.
Let's get started
The first step in this case study was simply deciding which niche business we were going to target. I personally have become the resident dog walker in the office. We are lucky enough to share our space at Hiilite with our VP of Morale, Cooper, and Head of Security, Emerson.
To me, I figured I spend so much time walking the dogs, that maybe I could turn this into a potential source of revenue. We had our business idea – dog walking and pet services.
Now that we've got a business idea, what's next?
As I spend most of my time in the digital marketing space my first thought is to focus my attention there. The overarching idea here is that I would get the site to rank first and figure out the business details afterwards (or along the way).
Keyword research & competitive landscape: Getting your website to the top of Google
To start, I wanted to first figure out, at the most basic level, what potential clients of mine would be searching. 'dog walker kelowna' seemed like a good start. This is what I saw.

Let's unpack this a bit…
Right away I see a few things. First, that those currently rank in the map pack have few reviews. This is beneficial for our business because, in my opinion, I could garner more than 15 legitimate reviews in very short order. Secondly, local SEO in my experience is impacted by having a physical location show up in your Google listing. The fact that a business is showing up on the map pack without a physical address, bodes well for my chances of potentially ranking in this highly coveted spot.
How does the rest of the search engine results page look?
It is slightly discouraging to see super authoritative websites such as rover.com, Kijiji.ca and yelp.ca on a key search term for our business. However, I am encouraged that those sites that are businesses themselves rather than third party apps/providers that currently do rank, are sites with very little domain authority. This is another positive for my business in that, I believe in a relatively short time, I will be able to best their link profile and potentially, replace them on page one of the search results page.

What's Next?
I'll be honest. I probably should have done more research before taking the next steps. However, a keyword research tool I'm quite fond of, 'Keywords Everywhere' suggested that the commonly searched for terms in the realm of 'dog walkers in kelowna' are relatively limited.
With limited search terms containing significant search volume, I quickly settled on 'best dog walker' and 'dog walker kelowna' as keywords my competitors are targeting, and I should as well.
Now that we've chosen keywords – what's next?
Look, I don't pretend to know the most about technical SEO, but this was a great opportunity to learn for relatively little cost. I figured if I ever want to start ranking for these search terms, I'm going to need a website! At Hiilite we commonly utilize Inmotion, so I went over there, purchased a business hosting plan and domain.
Now, there's differing thoughts on the importance of domain name that you choose. I didn't choose to go down the route of purchasing an expired domain with existing domain authority as, to be honest, I felt like getting this process kickstarted as fast as possible. However, that might be something I would consider a valuable exercise to explore in future case studies.
A quick review of the available domain names and I landed on bestdogwalkerkelowna.com. It's been said by some SEO experts that exact match domains have little-to-no impact on search engine ranking and in some cases, can lead to a penalty from Google. My personal experience however, has been that URL's with exact match domains and URL structures tend to show up in search results amongst very authoritative sites when it seems improbable. Referencing the screenshot from earlier the website 'kelownadogwalker.com' was shown in the map pack and the first page of results despite not having a physical address and a poor backlink profile and overall domain authority. Worst case scenario, this acts as a poor test and I purchase a branded domain later and redirect my current site to there.
Working in SEO as long as I have, if I had a nickel for every time I've heard, 'content is king', I'd be rich. The first thing I did now that my site was live was start generating content for its blog. This meant conducting more of my favorite aspect of SEO (keyword research) to decide which these blogs would be targeting. Once I had these, I passed them to a content writer and asked them to create 1,000+ word articles on the topic (research suggests that the ideal content total word count is 1,890 words for a page to rank).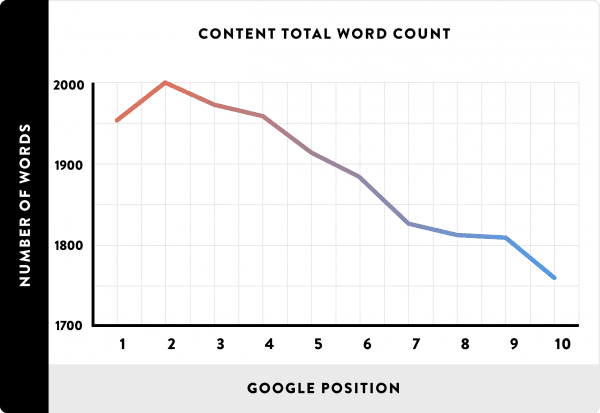 The idea here by populating my blog with content is twofold: first, I targeted very non-competitive keywords, such as 'symptoms of a dog being homesick' in hopes that my site quickly becomes the authoritative voice on these keywords. Secondly, I want Google to index and 'test' these pages as soon as possible – hopefully ranking them high, garnering clicks and increased dwell time as positive ranking signals so that it knows visitors enjoy the content and begins to rank it for related keywords just as quickly (such as our money keyword, the ones that will eventually generate us the most revenue, 'best dog walker' and 'dog walker kelowna').
While the content writer was busy creating these blogs, I pivoted to more administrative tasks. These included connecting Google Analytics, creating Search Console and Google Ads properties and securing my websites SSL certificate.
After receiving and publishing the blog content I felt it was (finally) time to start updating the main pages content. The homepage is still a work in progress, but initially I wanted to describe the services available and contact information to book said services. In the future I plan to build out individual pages for each service available in hopes that they can rank for the relevant keyword (i.e. dog sitting services).
I'll be the first to admit, the site isn't exactly aesthetically pleasing (also a work in progress). Images have been put into place and compressed as this was initially leading to long load times. I am hoping that the site will maintain load times around the two second mark.
Link building strategies
It's time to start working on getting our backlink profile on par or exceeding that of our competitors on the first page. To do this, I'm looking for the obvious, low hanging fruit opportunities that exist on top of the must haves. Right away, I created business listings on major platforms like Google, Bing, Yelp, YellowPages followed shortly by any local directories that allow me to submit my website information. Finally, (for this round of link building anyways) I submitted my blog posts wherever possible (Web 2.0's). In the roadmap is to explore guest blogging opportunities as well as continue to pump out content related to my services.
After getting listed in those directories, I went back and freshened up the existing content, both on the services page as well as blog content, namely adding an internal linking structure. Next up, I'll be looking to kick-up the content marketing strategy.
I lied
As I began working on content for the blog, the verification post cards for both Google and Bing arrived at the same time. Shortly after verifying both, I began soliciting for reviews from past clients (for the record these were all genuine reviews of dogs I had previously worked with – I just began asking their owners for reviews after the fact).
The effects of which immediately became evident. The screenshot is one day after verifying the listing and generating four reviews.
Now, it should be noted that these results can be skewed by where I am searching from. However, showing up first in the map pack for my area, in only one day, means I can potentially start corner the market for this area less than two weeks after 'starting' this business!
Key takeaway: Verify your bloody listing, optimize it and generate reviews from customers!
Now that we are ranking locally, let's check back on the content
The blogs we generated were published on September 18, 2018. Let's check out our early returns:
Ranking seventh on the first page of Google 11 days after publishing, is a great indication that our content strategy is working. Seeing this, I am excited to continue seeking out non-competitive keywords and generate more content around them. I've since started writing more content on more difficult keywords like 'can a dog eat watermelon?' to see how our site stacks up.
Getting some online visibility is nice – what now?
Besides monitoring analytics, search console and Google My Business insights reports and adapting based on the results…it's time to generate some leads/sales!
Stay Tuned For Part 2
Can our team of SEO experts help you get your site ranking on Google?