For TEC Canada, our mission was to give their online presence a fresh and modern look, enhancing the user experience and clearly communicating TEC Canada's purpose and offerings. Through strategic updates, including event post improvements, streamlined resource organization, and revamped recruitment pages, we successfully transformed their website into a modern and engaging platform that aligns with their goals and captivates visitors.
Deliverables:
Core Discovery, Web Design, SEO/SEM Set Up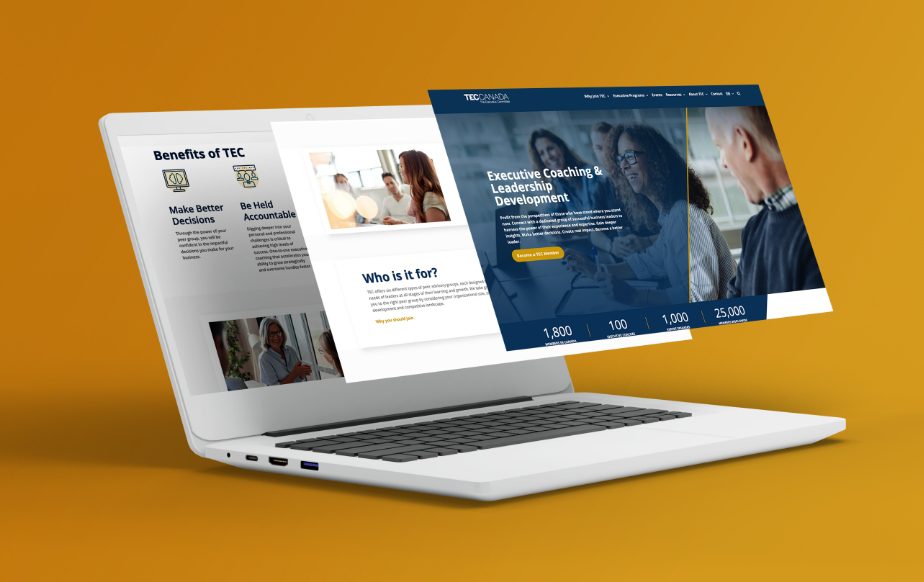 In our partnership with TEC Canada, our goal was to revitalize their website and create a fresh and contemporary online presence. We focused on updating the site with a modern look, incorporating elements of modern web design to captivate and engage visitors. To improve the user experience, we carefully organized the various resources offered by TEC Canada into separate pages, making it easier for users to find relevant information. Additionally, we revamped their recruitment pages to attract new users to their Member, Chair, and Speaker programs, enhancing their reach and impact in the industry. By dividing their programs into separate pages and updating the overall look and feel of the website, we successfully modernized TEC Canada's online presence, enabling them to stand out and make a lasting impression.
The Challenge
The Client Faced
One of our key objectives in the TEC Canada website redesign project was to improve the user experience and ensure that visitors could easily understand what TEC Canada offers. We accomplished this by updating their event posts, providing comprehensive information to users, enabling them to make informed decisions. By organizing the various resource types into separate pages, we enhanced accessibility and made it easier for users to find the specific information they were looking for. Additionally, we revamped the recruitment pages, creating an enticing and informative experience that encouraged potential members, chairs, and speakers to join TEC Canada's programs. The overall design and layout of the website were also revamped to create a more modern and visually appealing look.
Our Results/
Outcome Heading
The collaboration with TEC Canada resulted in a website that not only reflects their vision and values but also delivers an exceptional user experience. The revamped website now serves as a powerful platform for TEC Canada to engage with their target audience, effectively communicate their offerings, and attract new members to their programs.
Project Manager: Emilia Muscardin
Graphic Design: Cam Schreiner
Web Development: Heather Treadgold
SEO: Patrick Henderson
Content: Jake Maclearn Strategy: William Walkczak